Many of our activities are based upon giving up a little time to help the local community – rather than just working to raise charity funds.
Our annual 'summer evening minibus outings' are typical of this activity. Throughout the summer months, pairs of Pigs will team up to drive groups of local elderly residents off into the sunset – heading for the coast, parklands, local towns or places of interest….but always ending up in a country pub!
The result is a great evening out for Pigs and residents alike: our Evening Drive Time is a fun and rewarding activity to get involved with.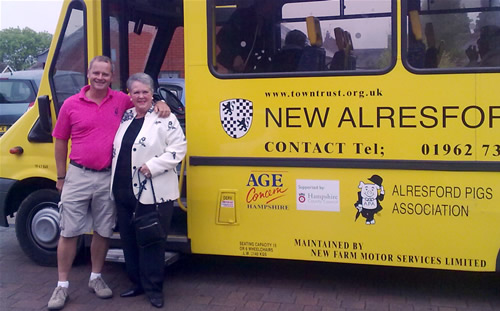 For 2018, the Pigs Evening Drives will take place on Tuesdays, scheduled throughout June and July. Pick-ups from residents' homes will typically start from 6pm, and return to Alresford will be around 10pm. Organisers from four centres will arrange the passenger lists, for drives on the following evenings:
Makins Court: 5 June and 3 July
Ellingham Close: 12 June and 10 July
Bramble Hill Group: 19 June and 17 July
Giles Group: 26 June and 24 July
Please contact your local co-ordinator to book a place on these free trips.